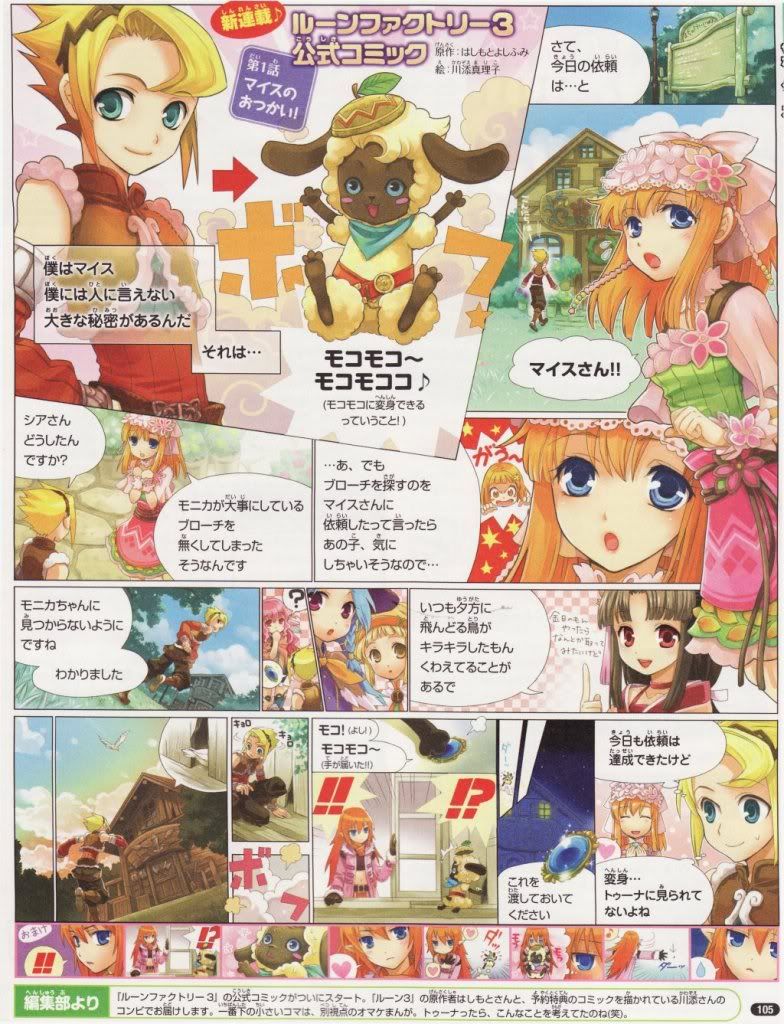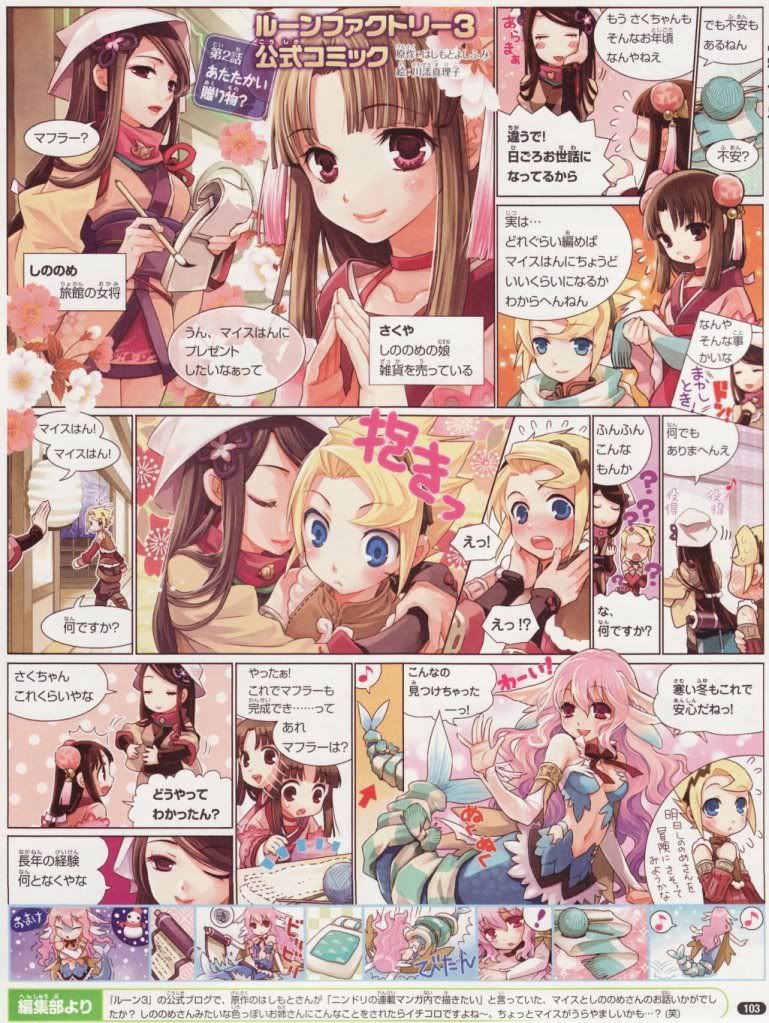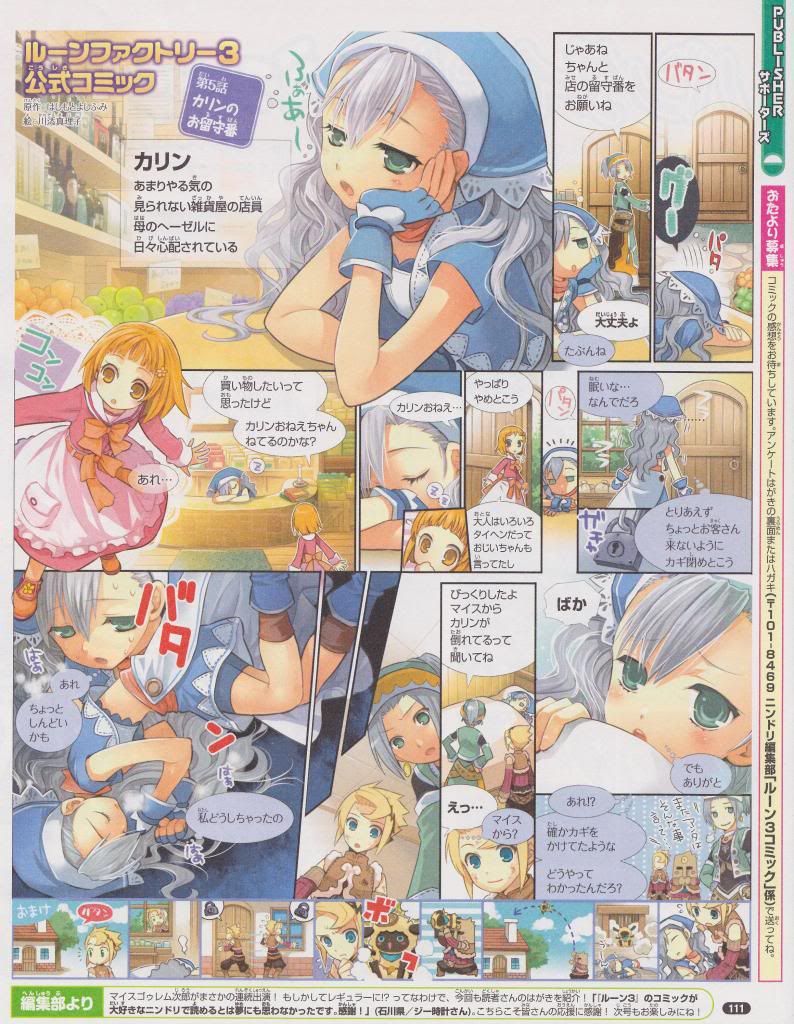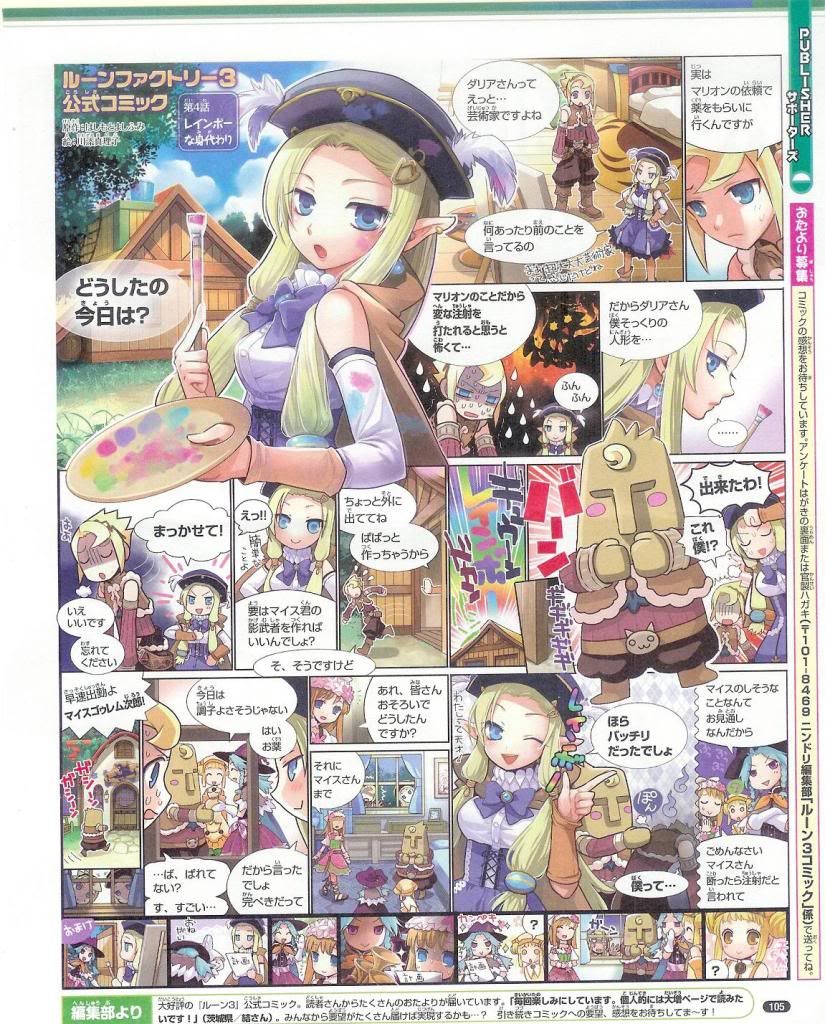 RUNE FACTORY 3 MANGA
Phần dịch ENG của truyện đầu tiên:
Panel 1
New Series: Rune Factory 3 Official Comic
Original Work: Hashimoto Yoshifumi
Art: Kawazoe Mariko
Chapter One: Mice's Errand
Mice: I'm Mice. I have a huge secret that I can't tell others... and that is...
<Bo!> (SFX)
Mice: Moko Moko Mokoko! (I can transform into a Mokomoko! [Woolly])
Panel 2
Mice: Well then, today's request is...
Panel 3
Sia: Mice(-san)!
Mice: Sia(-san), what's the matter?
Sia: Monica seems to have lost her precious brooch...
Panel 4
Sia: ... Ah, but when I told her that I would ask you to find her brooch for her, she seemed worried, so...
<Flashback>
Monica: Gau~
Panel 5
Mice: So I shouldn't be found out by her right? Understood.
Panel 6
Mice: <Asks about Monica's brooch> (picture)
Persia <?>
Panel 7
<Marion and Chocola have baffled expressions on their faces>
Panel 8
Sakuya: There's a bird that usually flies around in the evenings with shiny things held in its beak.
<Small text (Thinks to herself/Speaking in an undertone)>
After I'm done with my job on Friday, I could try to get some things from it...
Panel 11
Mice: <Looks around> <Looks around> (SFX)
Panel 12
Bo! <transform SFX>
Panel 13
Mice: Moko! (Yes!) Mokomoko! (I've got it!)
Panel 14
Toona: !!
Mice: !?
TL joke: <Insert Metal Gear reference>
Panel 15 (This panel is really small)
Mice: <Da~> (Running [Pit-a-pattering] SFX)
Panel 16
Mice: Please hand this over to Monica.
Panel 17
Sia:
Mice <thinks to himself>: Today's request is successful but...
Mice <thinks to himself>: My transformation...wasn't discovered by Toona, right?
Panel 18
Omake (Bonus)
Toona: !!
Panel 19
Mice: !?
Panel 21
Toona:
Panel 22
Toona:
Mice: <Da!> (SFX (Pit-a-patter!)
Panel 23
Toona's <Imagine spot>:
Toona: <Hugs tightly>
Golden Woolly: Mo! Mo!
Panel 24
Toona:
Mice: <Da~!> (SFX (Pit-a-patter-a-far-away!))
Panel 25
Toona: <Sweatdrop>
truyện sưu tầm